Just because your Kids are back in school doesn't mean the Family Fun has to stop, take a peek at these awesome deals with lots of fun things for you to do with your kids!
I know your family will be super excited when you to take advantage of these deals from our Macaroni KID partner, CertifiKID. Here you will find a variety of deals from a fun family day out or weekend away, DIY projects for the whole family and virtual classes your kids can take at home, we've got you covered. We even have some great gifts and party items and a freebie just for the grown-ups.
Here's my top Five, well actually more, but who's counting. These are my favorite CertifiKID deals sure to maximize your family fun, they are the answer to your kids telling you "I'm bored" click on any of the deals below for complete details.
Keep in mind these deals are only offered for a limited time so take advantage before they are gone forever.
Updated August 27, 2021 - Check back with Macaroni KID Conejo Valley - Malibu often as I update this article with new deals.
Please note: This article contains affiliate links and I receive a commission from purchases made through those links.
Local In-Person Activity
Woodland Hills, Mar Vista and Pasadena, CA
This special offer is valid through November 23, 2021
BIG Savings on Family Bowling at Bowlero & Bowlmor!



— View deal on CertifiKID

Get ready to roll with the best in bowling and active family fun at Bowlero & Bowlmor locations nationwide!

Make this your greatest family night ever with fantastic offers everyone can enjoy for up to 65% Off 2 Hours of Bowling + Shoe Rental for 2, 4 or 6 People!
Fun for all skill levels, Bowlero & Bowlmor's modern spin on bowling is the perfect way to spend quality time with the kids. Celebrate every strike, spare, and yes, even gutter balls, with the most famous lanes in the game and a delicious menu of classic American eats. They're the perfect addition to every game and are delivered right to your lane while you play!

This exclusive CertifiKID deal is valid at over 150 Bowlero/Bowlmor locations across the US. Click on the link above to check out the full list of participating locations to find the one closest to you!
Pasadena, CA
November 6th - 7th at the Pasadena Convention Center
Brick Fest Live
Select Dates through January 2022!

— View deal on CertifiKID

Brick Fest Live is on tour hitting cities across the country!
Filled with LIVE Interactive Stage Shows, Life-Size Models, Games, Photo Ops, Limited Edition Merchandise and MORE, it's the perfect outing for everyone!
HURRY! Limited quantities available!
We love Brick Fest Live, my family has been twice. If your kids love Legos you will love this show, we're looking forward to attending again this year, here are a few photos from our last adventure at Brick Fest Live.
Pasadena Convention Center, 300 E Green St., Pasadena, CA 91101
Local: Day-Trip or Weekend Getaway ~ in-Person
San Diego, CA
Weekends Thru October 31st & Weekdays Thru September 6th
SeaWorld + Aquatica San Diego - KIDS FREE!
Weekends Thru October 31st & Weekdays Thru September 6th

— View deal on CertifiKID

The kids might be headed back to school, but that's no reason to turn down the FUN...
Celebrate the kid in all of us with one of these amazing KIDS FREE offers from CertifiKID and save 51% OFF admission to SeaWorld San Diego or Aquatica San Diego for you and you little one(s)! From heart-thumping roller coasters to state-of-the-art water rides, world-class dining and kid-friendly experiences, there's something for everyone at these popular theme parks.

For a limited time, purchase one Adult ticket to either park, and you'll get a FREE Kids Admission (ages 3-9) bundled in!
Don't have kids in that age range? Don't worry! Kids and Adults of all ages can still save BIG with 52% Off a Two-Park Single Day Ticket (valid through 9/6/2021) or 24% Off a SeaWorld-Only Single Day Ticket (valid through 12/31/2021).

Slide over to Aquatica San Diego for one last splash before the water park closes on September 6th and splash into a vibrant aquatic world of sandy beaches and the most waterslides in San Diego! Water lovers will rejoice at the non-stop water rush. Soak in the fun and feel the rush as you whoosh down one of six different 60-foot paths to a splash-filled destination on Whanau Way.
Virtual - Online Learning for Kids
Virtual - Art
Expires 90 days from date of purchase
— View deal on CertifiKID

Sketch here, sculpt there, paint anywhere! Inspire their love of art with an incredible virtual experience designed to inspire creativity and foster learning with an all-access pass from Young Art.
Young Art offers live classes 7 days per week, both after school and on weekends. Each class, led by an engaging live art instructor, guides a variety of skill-building lessons with step-by-step instructions and encourages students to interact with each other and ask questions.
Online Coding fun
Expires December 31, 2021
CodaKid's Roblox or Minecraft Coding Bundle
Young Techies Learn to Code from Home!

— View deal on CertifiKID

Minecraft and Roblox, my kids and their friends all love both of these games, what a great deal.
Engage your young Roblox or Minecraft fan with CodaKid's award-winning online kid's Roblox Coding Bundle or Minecraft Coding Bundle! Or grab them BOTH!
CodaKid's Roblox Coding Bundle teaches kids how to create incredible Roblox games using Roblox Studio and the Lua programming language.
CodaKid's Minecraft Coding Bundle teaches kids how to create incredible Minecraft Mods using Eclipse IDE and the Java programming language. Courses can be taken on your schedule and include access to their friendly team of highly experienced instructors through messaging and screen share.
CodaKid's course teaches kids how to code independently using real coding languages and professional programming tools. The course is suitable for absolute beginners to the experienced computer programmer. Best of all - CodaKid makes computer programming fun and engaging for younger learners.
Recommended for ages 8 and up, this makes the perfect gift for your young techie!
Freebie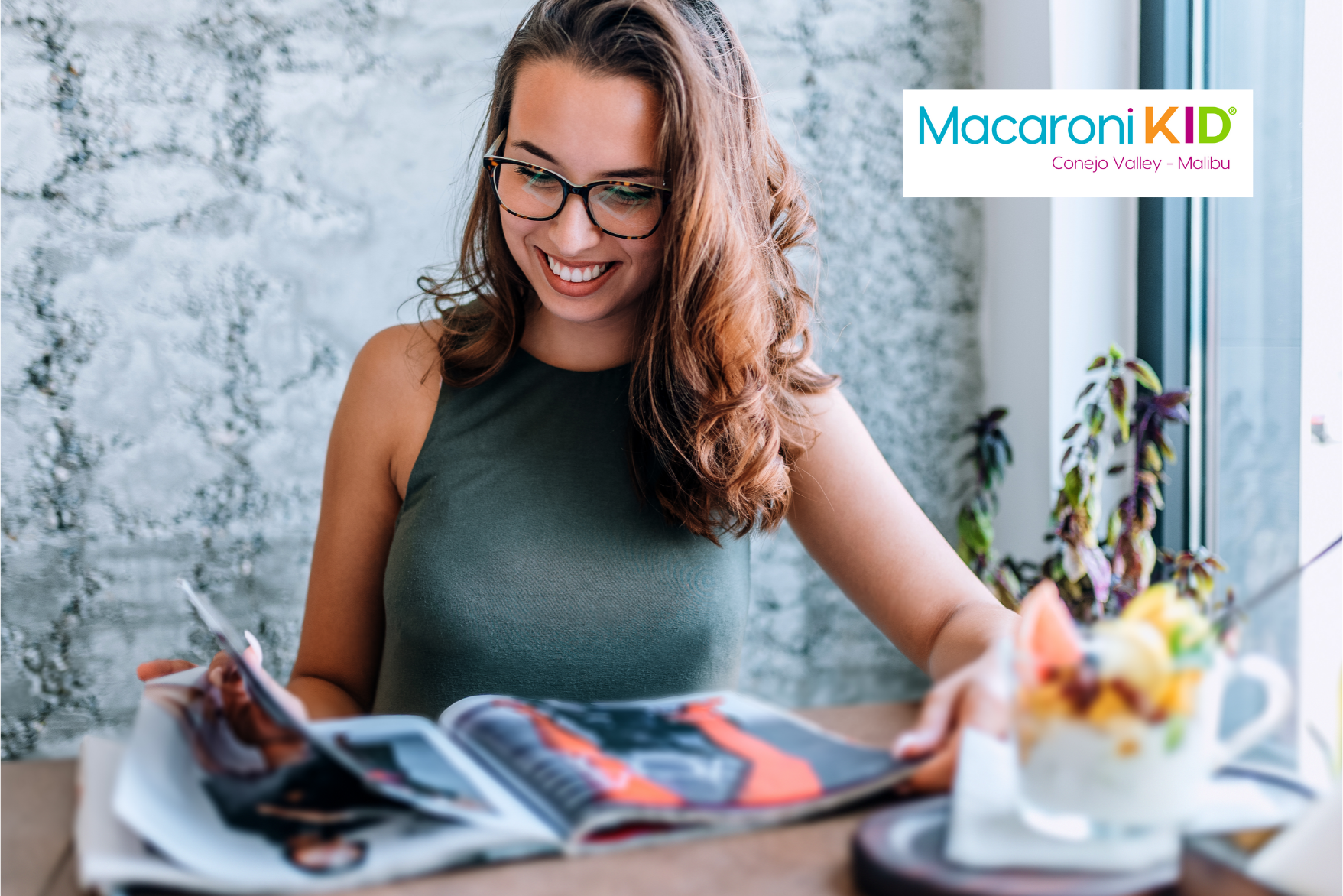 Our Gift to You: The Macaroni KID Magazine of the Month Club
We are so thankful to all of our Macaroni KID readers and, to show our appreciation, we wanted to give you a gift.
Each month we will offer a different magazine subscription as a gift from us to you — with no strings attached. We mean it when we say no strings attached! If you sign up to get the magazine you won't be asked for credit card information. Because we all hate that. You can sign up for as many as you'd like. There's no limit because we love getting magazines in the mail and hope you do too.
All you have to do is sign up now for your FREE weekly Macaroni KID Conejo Valley - Malibu newsletter

Already a Macaroni KID subscriber? You can most definitely get in on this deal too: Simply remain subscribed to your local newsletter and watch for the monthly email announcing the latest magazine of the month offer, then follow the instructions to claim your magazine subscription.
Thanks again for your support of Macaroni Kid. We hope this gift shows how much we appreciate YOU!
Please note: By signing up to receive your magazine gift you are also agreeing to subscribe for FREE to Macaroni KID Conejo Valley - Malibu if you are not already. Subscribers receive a free local weekly newsletter by email with family-friendly events and things to do with kids in Conejo Valley, Malibu and nearby areas. You will also receive one monthly email from Macaroni KID with the new Magazine of the Month offer and other special deals! You may unsubscribe at any time. This program is not available in Canada.
My Favorite Deals for Products and Projects
Life-Size Cutouts
Expiration: December 31, 2022
Up to 73% Off Build a Head Face and Life-Sized Cutouts, Cupcake Toppers, Wrapping Paper & More!



— View deal on CertifiKID

Make this year's milestones even more memorable and celebrate BIG with décor as unique as they are from Build a Head! What better way to spice up any special occasion, birthday party, wedding, shower, party, sporting event or corporate outing.
Imagine the surprise of seeing their face light up - all over the place! Turn the festivities up and make the guest of honor the larger than life of the party with these one-of-a-kind products.
Face cutouts in four sizes - big, huge, giant and the most biggest
Life-sized cutouts made from high-quality water-resistant vinyl in seven sizes up to 6' tall
Wrapping paper for birthdays, holidays or just for fun
Custom cupcake toppers
Yard letters, ornaments, keychains and more!
It's super easy and crazy fast. Simply select your item, upload your photo and Build a Head will do the rest.
Make it a memory they'll never forget and take the celebration from ordinary to extraordinary with up to 73% off custom products at Build a Head!
Custom T-Shirt Quilt
Expiration: December 31, 2021
T-Shirt Quilts by Project Repat



— View deal on CertifiKID

Snuggle up to your memories in a Project Repat T-shirt quilt!
I don't know about you but I have quite a few T-shirts I no longer wear that have piled up over the years (let's not even talk about hubby's), but I just can't part with them, because they hold special memories. Now lets talk about the kids, while I do donate or pass along most of their old shirts if they are not destine for the garbage bin, I have saved a few of their and my favs and I'm running out of room. I keep thinking I will make them into a really cool quilt, but guess what I don't have the time, the equipment or the know-how I just figured one of these days I would get around to it and learn how, but haven't. This Deal is the PERFECT Solution for me and probably you as well.
Project Repat takes a perfect square from each of your shirts, using the BEST parts of the shirts, and sews them together on the front of the T-shirt quilt. They can use T-shirts, dry fit shirts, jerseys, sweatshirts, polos, flannel, button downs, and basically anything that's soft and has enough fabric to use. Each yard recycles 23 plastic bottles that would otherwise end up in landfills!

A purchase you can feel good about! Repatriate means to return to the country of origin. Thousands of textile jobs have gone overseas and Project Repat is helping to bring them back to the United States. Your blanket is carefully crafted by designers, cutters, and sewers earning a fair and living wage in the United States.
If you are planning to Travel with you kids, take a look below at our favorite Family Travel Deals and things to do with your kids, great for a weekend getaway or longer!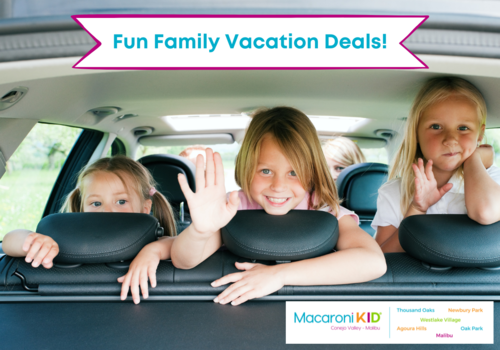 Family Fun Travel Deals, Activities, Trips ~ Different Ways to Save! 🌞 Find Your Family Fun when your Travel - nearby or far away!
---
Make sure you don't miss out, click image below to Subscribe to the Macaroni KID Conejo Valley - Malibu weekly e-newsletter