Find Your Family Fun when your Travel - nearby or far away! Although summer is winding down and the older kids are back in school that doesn't mean you can't still plan a family getaway. We didn't have to look far to find these deals just for you! We found so many great deals from CertifiKID, our Macaroni KID partner! All of these limited time deals are sure to make this year's Family Trip extra Fun. Take a look here for the perfect vacation Deals for your family and start packing! There are so many fun things to do with your kids, some are local and perfect for a weekend, others are great options for a bit longer no matter if you hit the road or the friendly skies! Your adventure awaits...
No matter if you are traveling in California or to Nationwide spots, make them special and memorable for your family!
Keep in mind these deals are only offered for a limited time so take advantage before they are gone.
---
Updated August 27, 2021
Be sure to check back with Macaroni KID Conejo Valley - Malibu as we add New Deals regularly!
---
If you love deals be sure to check out 5 Awesome Deals for Your Family from Macaroni KID Conejo - Malibu. Amazing ways to Save, Play and Entertain the whole Family - Locally in-town or comfortably at Home.
Click on each Deal Links below for complete details.
Please note: This article contains affiliate links and I receive a commission from purchases made through those links.
---

---
California Deals
These deals are great for a weekend getaway with the family.
---
Big Bear, CA
Expiration: December 30, 2021
BRAND NEW! $30 Off Any Getaway Big Bear Tiny Cabin Stay
Pay Deposit Now

— View deal on CertifiKID

Tired of staring at the same four walls? Take a day off and get away from it all with Getaway Big Bear!
At Getaway, they believe in building balance into your modern life - taking the time to rest and unplug from the daily hustle and to focus on yourself, your relationships, and the wonder of nature. Relax and recharge with a Getaway Big Bear simple escape to a tiny cabin tucked away in Running Springs, CA. Getaway's FIRST CA Outpost is easily accessible at just a 2 hour drive from Los Angeles!
---
San Diego, CA
Weekends Thru October 31st & Weekdays Thru September 6th
SeaWorld + Aquatica San Diego - KIDS FREE!
Weekends Thru October 31st & Weekdays Thru September 6th

— View deal on CertifiKID

The kids might be headed back to school, but that's no reason to turn down the FUN...
Celebrate the kid in all of us with one of these amazing KIDS FREE offers from CertifiKID and save 51% OFF admission to SeaWorld San Diego or Aquatica San Diego for you and you little one(s)! From heart-thumping roller coasters to state-of-the-art water rides, world-class dining and kid-friendly experiences, there's something for everyone at these popular theme parks.

For a limited time, purchase one Adult ticket to either park, and you'll get a FREE Kids Admission (ages 3-9) bundled in!
Don't have kids in that age range? Don't worry! Kids and Adults of all ages can still save BIG with 52% Off a Two-Park Single Day Ticket (valid through 9/6/2021) or 24% Off a SeaWorld-Only Single Day Ticket (valid through 12/31/2021).

Slide over to Aquatica San Diego for one last splash before the water park closes on September 6th and splash into a vibrant aquatic world of sandy beaches and the most waterslides in San Diego! Water lovers will rejoice at the non-stop water rush. Soak in the fun and feel the rush as you whoosh down one of six different 60-foot paths to a splash-filled destination on Whanau Way.
---
Glen Helen Raceway (1 hour from L.A.) - San Bernardino, CA
Saturday and Sunday, October 23 - 24, 2021
See below for more locations Nationwide choose from including - Laughlin, NV: NOVEMBER 20 & 21, 2021

Tough Mudder Kids Mighty & Mini Mudder Obstacle Course



— View deal on CertifiKID

Tough Mudder Kids is a brand-new adventure-inspired kids obstacle course specially designed for children ages 5-12. Junior Mudders of all abilities now have the chance to take on their own version of the legendary Tough Mudder course and learn the benefits of teamwork, overcoming obstacles and, of course, getting really really muddy.
Mighty Mudder: Recommended for kids ages 8-12, Mighty Mudder brings the best of the full-sized Tough Mudder course to life. Featuring 15 of the world's best obstacles, including kid-friendly versions of favorites Funky Monkey and Everest, spread over a mud-filled 1-mile course. This is as close to the real thing as it gets.
Mini Mudder: Mini Mudder is an obstacle course mud run consisting of 1/4 mile laps and 10 obstacles designed specifically for adventure-seeking kids ages 5-7. Give your child a chance to work as a team, get muddy, and experience the thrill of a Tough Mudder event. This is a great entry-level experience for the aspiring mudder. Mini-mudders must have a parent or guardian accompany them and guardians must have a spectator ticket or purchase a race ticket.
Tough Mudder Kids receive the following with their event ticket:
Performance finisher T-shirt, Tough Mudder finisher headband, 1 Spectator Ticket (Includes a parking pass and a free beer (21+ only) for Mom or Dad
Find a Tough Mudder Kids Race near you!
TRI-STATE: SEPTEMBER 11 & 12, 2021
SEATTLE: SEPTEMBER 25 & 26, 2021
PITTSBURGH: OCTOBER 2 & 3, 2021
WASHINGTON, DC: OCTOBER 16 & 17, 2021
LA–GLEN HELEN: OCTOBER 23 & 24, 2021
DALLAS/FT. WORTH: NOVEMBER 6 & 7, 2021
LAUGHLIN, NV: NOVEMBER 20 & 21, 2021
CENTRAL FLORIDA: DECEMBER 11 & 12, 2021
COLLEGE STATION, TX: MARCH 19 & 20, 2022
JACKSONVILLE, FL: APRIL 2 & 3, 2022
ATLANTA, GA: APRIL 23 & 24, 2022
MISSOURI: APRIL 30 & MAY 1, 2022
PHILADELPHIA, PA: MAY 21 & 22, 2022
TORONTO: SEPTEMBER 17 & 18, 2022
---
Lake McSwain Recreation Area in Snelling, CA
Expiration: September 06, 2021
Splash-n-Dash Aqua Park at Lake McSwain Recreation Area
Use Special Link below for DISCOUNTED PRICING!

— View deal on CertifiKID

Run, jump, slide, bounce and splash into heart-thumping, adrenaline-pumping fun for the whole family at Splash-n-Dash Aqua Park!
Splash-n-Dash is an inflatable, on-water obstacle course and playground that provides hours of high-energy fun for the entire family. It is located inside The Lake McSwain Recreation Area at 9090 Lake McClure Road in Snelling, CA, approximately 25 miles northeast of Merced and 70 miles from both Fresno and Stockton, California
---
Folsom, CA and Las Vegas ~ plus 8 more SeaQuest Locations Nationwide!
Expiration: December 31, 2021
SeaQuest Land and Sea Adventures
Admission, Feeding Tokens & Animal Whisperer Tour

— View deal on CertifiKID

Take your family on the quest of a lifetime - no passport necessary! Journey through five continents in one day, marveling at over 300 different species from the Egyptian Desert to the Amazon Rainforest at SeaQuest!

Not your ordinary aquarium, SeaQuest brings animals and marine life out from behind the looking glass for up-close and personal experiences. Designed as a 'Quest of Edutainment,' visitors to SeaQuest enjoy realistically themed exhibits and connect with animals through various hands-on encounters. Feed sharks, touch stingrays and immerse yourself among the capybara, asian small-clawed otters, giant sulcata tortoises, large exotic birds, and thousands of other creatures along the way.

In search of a more daring experience? Enjoy walk-in aviaries, feeding caiman, or snorkeling in the premiere swim tank, filled with reef sharks, stingrays and hundreds of tropical fish. All SeaQuest exhibits and animals vary by location - check out the "Discover" section of the website for the location you plan to visit and learn more about the exhibits and animals you can expect to find.
Locations:
Layton, UT (25 miles north of Salt Lake City)
Las Vegas, NV
Fort Worth, TX
Littleton, CO
Folsom, CA (23 miles northeast of Sacramento)
Trumbull, CT
Roseville, MN (7.5 miles outside of downtown Minneapolis)
Lynchburg, VA
Woodbridge, NJ

---
Outside of California:
---
5 Locations Nationwide including Chandler AZ
Expiration: March 01, 2022
Crayola Experience General Admission + FREE Scribble Scrubbie



— View deal on CertifiKID

Crayola Experience is where the magic of Crayola comes to life! A day of colorful, family fun awaits you at this one-of-a-kind destination, packed full of dozens interactive attractions! Here at CertifiKID, we've drawn up a terrific deal for General Admission tickets PLUS FREE Scribble Scrubbie,* the cool, new washable pet you can color again and again! Bonus - no waiting in line! Just take your voucher to the Crayola Experience entrance for immediate entry.
Chandler, AZ
Easton, PA
Plano, TX
Bloomington, MN
Orlando, FL ONLY
---
Tour the Pacific Northwest - Pick Up in Portland, Oregon
Expiration: May 31, 2022
ROAMERICA Campervan Rental + EXTRA 200 Bonus Miles!
Tour the Pacific Northwest!

— View deal on CertifiKID

Did somebody say road trip?! Get ready for a stress-free epic family vacay as you enjoy the beauty of the pacific northwest from the comfort of a ROAMERICA campervan.
From the Cascade Mountains to the Pacific Ocean, wine tasting and mountain biking in Hood River and Bend, or whale watching, surfing, or fly fishing on the stunning Oregon Coast, ROAMERICA's campervans are prepared to handle any adventure dad can dream of. Each van is stocked for 4, but an extra set of supplies can be added to accommodate a 5th person.
Take your family away from it all!
---
Glenwood, WA
Expiration: December 30, 2021
$30 Off Any Getaway Mount Adams Tiny Cabin Stay
Pay Deposit Now

— View deal on CertifiKID

Relax and recharge with a Getaway Mount Adams simple escape to a tiny cabin tucked away in the valley of Glenwood, WA - right outside the Gifford Pinchot National Forest! Located just over the border into Washington, this Getaway Outpost is only a 2 hour drive from downtown Portland.

Whether you're looking for a family escape from screens, schedules and stress, want to rekindle the romance with your partner, get away for a meaningful girls' weekend, or just finally get some peace and quiet for yourself, Getaway's Outpost in Mount Adams/Glenwood, WA has everything you need. Nearby attractions and activities include the Columbia River Gorge, Panther Creek Falls, Natural Bridges and more.
---
Winter Haven, FL
Expiration: January 31, 2022
View deal on CertifiKID

LEGOLAND® Florida is the place where kids rule! It's where princesses, knights and adventurers roam. Where dragons soar, castles are stormed, and pirates sail the seven seas. Located in Winter Haven, FL, LEGOLAND® is the ultimate LEGO® theme park and hotel destination for kids ages 2-12 and their families!
Spend a whole day together – or even several days – exploring the primarily outdoor theme park. Imagination comes to life with more than 50 interactive rides including The Great LEGO Race, Coastersaurus, Flying School, LEGO® NINJAGO® The Ride, Lost Kingdom Adventure and Kid Power Towers. Slide, splash and build your way to fun on 14 water slides in the Water Park, take in a movie in the 4D theater or test your skills on the high seas with the NEW Brickbeard's Watersport Stunt Show.
---
East Rutherford, NJ
Expiration: May 1, 2022
BRAND NEW! LEGOLAND® Discovery Center at American Dream



— View deal on CertifiKID

The ALL NEW LEGOLAND® Discovery Center NJ at American Dream is the ultimate indoor LEGO playground. Located near The Meadowlands, visitors get a chance to experience some of NYC & NJ's top landmarks made out of LEGO bricks! But that's just the start! Build, create, and play in 10 themed areas with millions of LEGO Bricks!
It's like you've just jumped into the biggest box of LEGO bricks ever! Designed for children ages 3-10 to play together with their families, LEGOLAND® Discovery Center is a world of color, creativity and FUN!
---
Goshen, NY
Expiration: June 01, 2022
BRAND NEW LEGOLAND® New York Resort
Valid for visits beginning July 9, 2021!

— View deal on CertifiKID

Visit the hottest new attraction making it's long awaited debut! LEGOLAND® New York Resort arrives on the scene with their Grand Opening Celebration! Get your CertifiKID vouchers now for use anytime beginning July 9, 2021! Located in Goshen, NY, 60 miles northwest of NYC, the largest LEGOLAND to-date is the ultimate LEGO® theme park and hotel destination for kids ages 2-12 and their families! Combining the very best of its sister LEGOLAND Resorts in California, Florida and around the world, with the addition of exciting new attractions, LEGOLAND New York Resort is being built as the ultimate family destination!
You'll find more than 50 interactive rides, shows and attractions, allowing kids and their families to spend a whole day together – or even several days – exploring seven LEGO themed "lands." Primarily an outdoor theme park, LEGOLAND New York will also offer a number of indoor attractions, such as the 4D Cinema, shows, and building experiences.
---
Lansing, WV
Travel is valid now through October 31, 2021
Adventures on the Gorge Getaway
Includes Camping, Adventure Credit & Pool Pass

— View deal on CertifiKID

Treat your whole family to an exciting getaway full of adventure, scenic views, and plenty of wide open space at Adventures on the Gorge!
Named one of the top six adventure resorts in the country by U.S. News & World Report, Adventures on the Gorge is located on more than 250 acres along the rim of the majestic New River Gorge near Fayetteville, WV. Offering plenty of space to safely distance with adventure and comfort at your fingertips, your family will enjoy world-class whitewater rafting, rock climbing, mountain biking, zip lining, hiking and so much more.
Grab your Passport
---
Runaway Bay, St. Ann, JAMAICA
Expiration: Valid for bookings through December 20, 2021
FDR Resort All-Inclusive Stay + YOUR OWN PERSONAL VACATION NANNY!



— View deal on CertifiKID

We've all heard the urban legend about "that resort in Jamaica with the nannies" and now CertifiKID is making that myth a reality with this AMAZING deal at the family-friendly Franklyn D. Resort in Runaway Bay, Jamaica!
Escape to the clear blue waters of the Caribbean and enjoy a 3-night stay at the all-inclusive Franklyn D. Resort. Along with a 2-bedroom suite, each family receives their very own nanny, a qualified member of the warm and attentive Franklyn D. Resort staff, specially trained and CPR-certified and assigned specifically to your family for the duration of your stay. She'll be your personal vacation assistant.
---

---
If you love deals for your family make sure you look at this helpful article: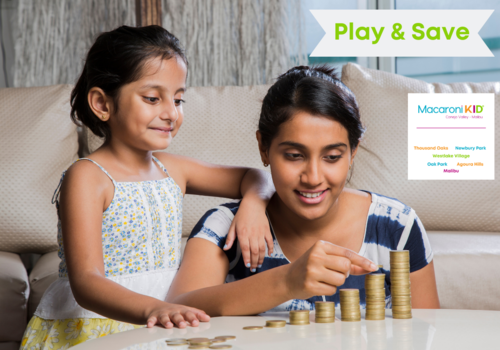 5 Awesome Deals for Your Family from Macaroni KID Conejo - Malibu
---
Are you a Macaroni KID newsletter subscriber?
If not click here and I'll send you interesting and helpful articles like this directly to your inbox every week.