Disclosure: I received an Outsideologist Project kit and compensation compliments of Claritin® for writing this article, but the images, thoughts, and opinions are all my own. This giveaway is not affiliated with Facebook, Twitter, YouTube, or Instagram.
My boys love getting outside, and when they were little they never wanted to stop playing outdoors. When we got rain they would play outside until they were soaked. Sometimes they would just run around and enjoy the fresh air, other times they would play in the sand, dirt, or water as long as I would let them.
As they've gotten older I find they're spending less time outside and more time inside either watching videos or playing video games – those darn iPads. This past year has been extra challenging for my family, with everyone working and schooling at home. With no place to go and no friends to visit, we really didn't get out much. Lately my kids don't even want to go outside, but once I get them out they have a great time, I'm sure other families are having the same struggles.
We've all picked up some bad habits this last year and need that extra nudge to get up and get outside. This is why I'm really excited to share with you The Outsideologist Project, presented by the makers of Claritin®. I just received a kit from The Outsideologist Project and my son and I were so excited to open it and check it all out (see the photos below). It's filled with all sorts of fun stuff to encourage outdoor play.
The Outsideologist Project offers lots of great ideas to help me get my whole family outside more. Now with everything reopened, school's out for summer, and the weather warming up, we'll be using our Outsideologist kit to explore and have some fun outside.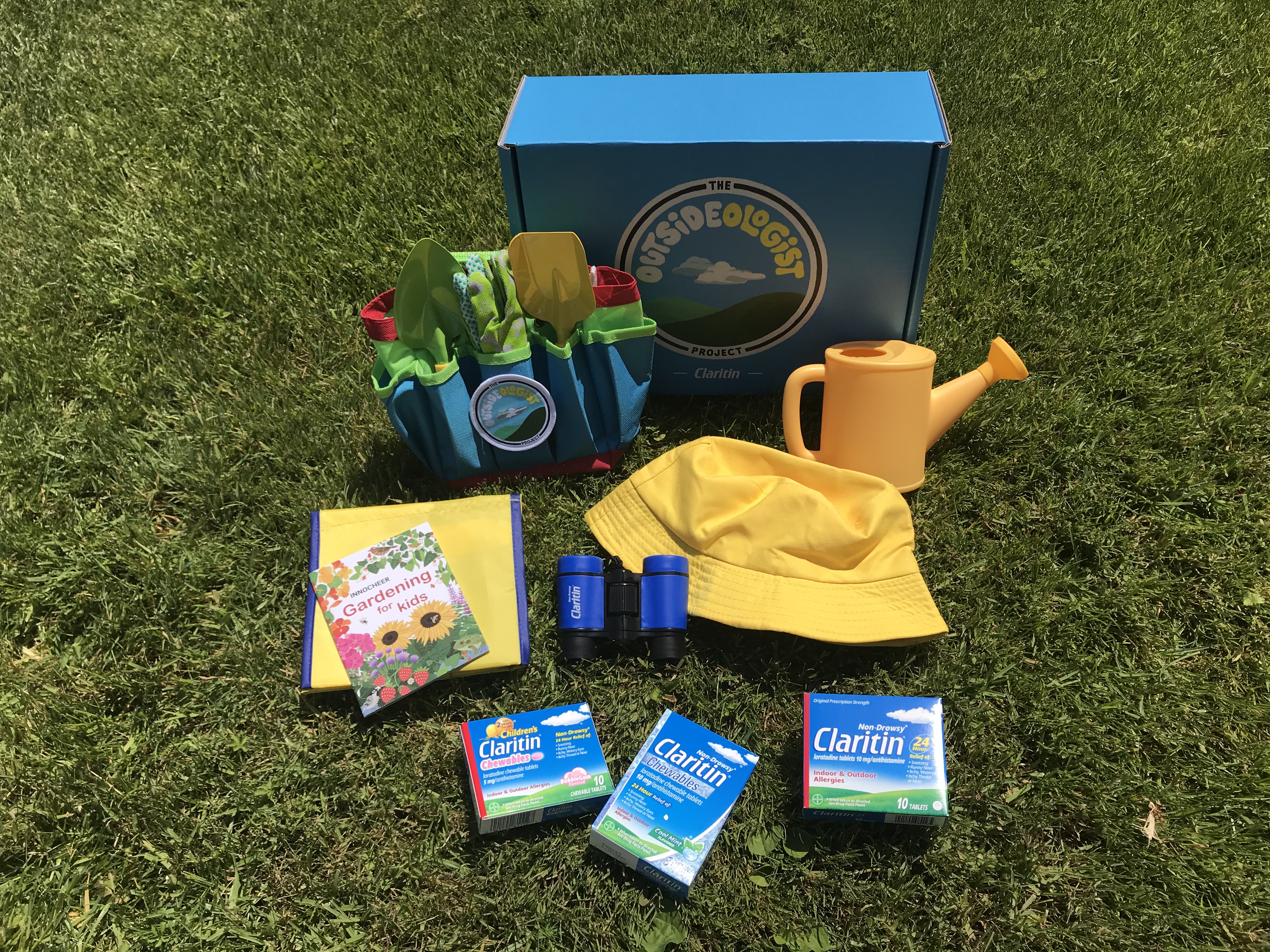 According to a new survey fielded by Claritin® and conducted online by OnePoll among 2,000 American parents of children ages 5-13 years old, parents believe their kids are curious about the outdoors, but perhaps lack the imagination needed to make the most of them. To arm parents with tools and resources to encourage more time outside, Claritin® has launched The Outsideologist Project, a multiyear initiative which aims to get 1.2 million kids outside for an extra hour per week. The initiative provides families with expert-guided activities to bust boredom and foster a love of the great outdoors.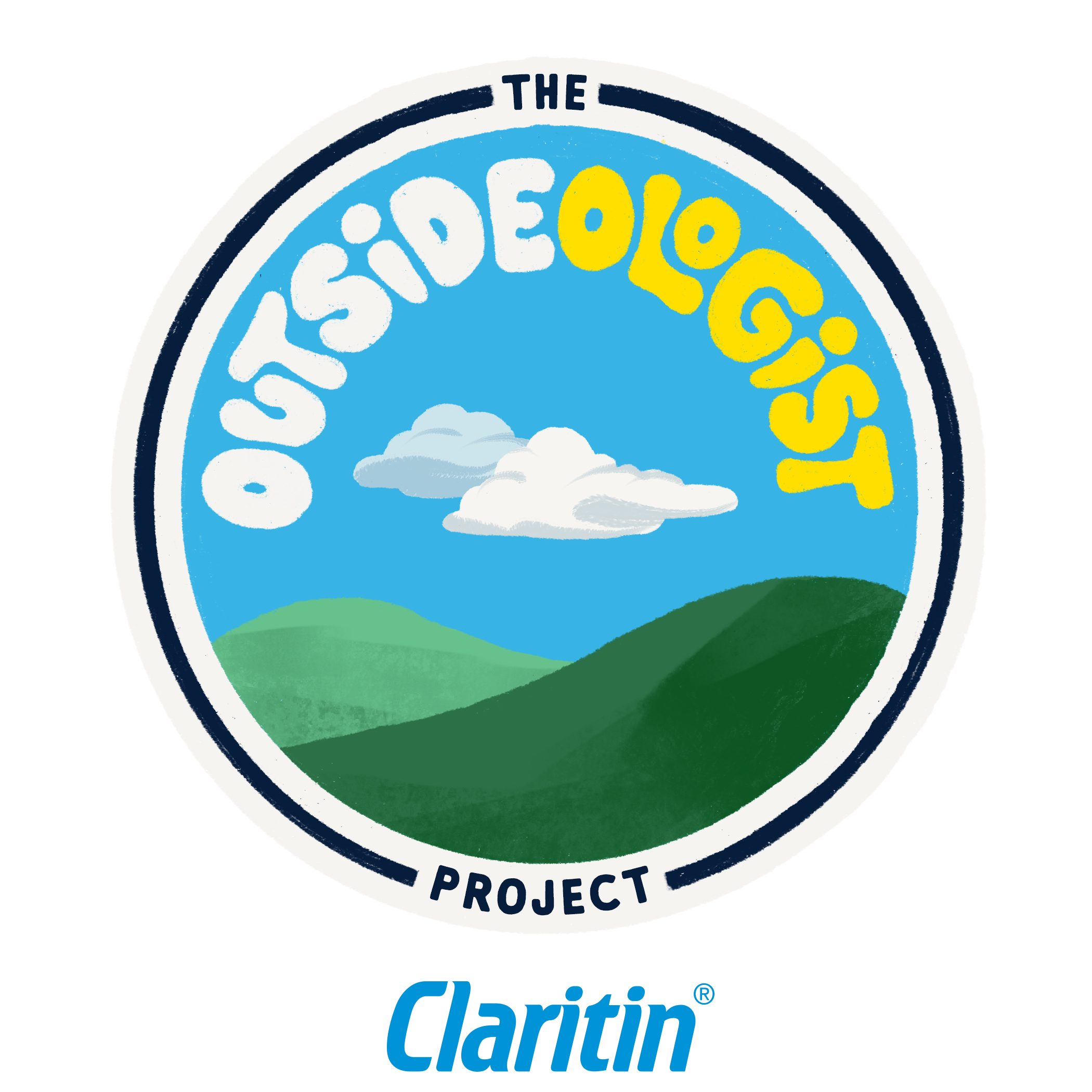 Join me in getting outside more. Let's all set a goal of at least an hour more a week – that's less than 9 minutes a day – we can do it. It doesn't have to be complicated, see below for my top ten suggestions. After all, studies show that spending time outside helps builds confidence in kids, promotes happiness and creativity, and even teaches responsibility.
Spending quality time with my family outside needs to be more of a priority, and I'm excited to partner with Claritin® to show kids what wonders are in store outside and what nature has for them to discover. Some of our favorite family outdoor activities are spending time going to the beach, playing in the park, enjoying a day at an amusement park, sitting outside enjoying some yummy ice cream, a cup of coffee or delicious snack, as well as going on outdoor adventures with friends.
---
10 ideas to encourage your kids to get outside more.
Explore your own backyard or neighborhood - Ask your kids what they can find in the backyard or nearby! Besides plants we have found lots of critters that visit our backyard like bunnies, squirrels, all kinds of bird, insects and lizards, we enjoy not only the sights but the sounds of our little visitors. Nearby in our neighborhood we've spotted deer, a skunk, opossums, raccoons (they like to steal from the trash can), coyotes, and although we haven't seen them we often hear owls and hawks. Just remember to only observe the animals from a safe distance!
Visit your favorite park or explore a new one - We are fortunate to have so many options to choose from. We have a variety of neighborhood and community parks, many with playgrounds, splash pads, some with lagoons, lakes and creeks. Don't forget about the State and National Parks, campgrounds, and recreation areas including the Santa Monica Mountains.
Head to the beach - This is one of my personal favorites. My boys love the water and the sand, not sure which they enjoy more. You can head to one nearby or drive a bit further up or down the coast for an all-day adventure.
Look up to the sky for some cloud watching or stargazing - There is nothing more relaxing or easier than simply just looking up at the sky and letting your imagination run wild. Ask your kids what they see when they look at the clouds. We've seen ones that looked like a rabbit, a heart, and even an elephant. Cloud watching can also be a science lesson learning the different types of clouds and trying to identify them. After dark you can add stargazing to the list, and if you have a telescope, even more adventure awaits. Which constellations can you find?
Gardening - There is no better way to become one with nature than digging in the dirt. Think about planting some healthy veggies, a fruit tree, or beautiful flowers. Plant some native pollinator-friendly plants and observe all the new visitors. Get creative and make a fairy garden – my boys and I had so much fun when we did this. You could even learn to compost!
Observe the nature around us - Always be on the lookout; you never know when you will spot something new or interesting. Get your kids in the habit of being observant by pointing out what you see. We've been fortunate to have a heard of goats helping with wildfire mitigation nearby. Thanks to some social media posts, we knew just where to find them, we even spotted a few babies.
Record what you find - Encourage your kids to take photos, draw a picture, or keep a nature journal to document their findings. My son loves to take photos everywhere we go, especially of the flowers or critters when he can spot them.
Take a hike - We couldn't live in a better place for going on a hike. We are surrounded by hiking trails everywhere. Look online or check with your local park or use an app for trail maps. So many amazing choices; short or long, steep or flat and you don't have to go far either. Make sure you take along plenty of water and other essentials like snacks, first-aid kit, flashlight, sunscreen, and even a whistle.
Go for a walk - This is another super easy option, just head out the door even if it's just around the block. Is there someplace nearby you can walk to? Another option is to visit one of our many outdoor historic sites or shopping centers to just walk around and enjoy the nice day. How about a scavenger hunt? Find one online or create your own.
Chalk it up - Keep a bucket of colorful chalk by the front door, encourage your kids to draw a picture or write a message. I remember when things first shut down, lots of neighbors were writing hopeful and encouraging messages and drawings on the sidewalk. How about sharing a riddle or encouraging others to exercise with inspiring messages.
Go for a ride or play ball - OK I know I said top 10, but I couldn't leave these off. Have your kids grab a bike, scooter, or sports equipment, and get them moving outside!
The Outsideologist Project wants to inspire your family to #GetOutside by giving you access to engaging and educational tips and activities, kindling the same spark you felt enjoying time outdoors. Developed by The Outsideologist Project's Advisory Board, the expert-guided curriculum will be accessible on Instagram and Facebook. Each member of the Advisory Board will also host an interactive livestream on Instagram, with dates and times to be announced on the platform.
Plants - hosted by author and environmental scientist, Summer Rayne Oakes
Weather - hosted by Tevin Wooten, Emmy-Award winning weather reporter and Certified Broadcast Meteorologist for The Weather Channel
Space - hosted by Emily Calandrelli, Emmy-nominated host and executive producer of "Xploration Outer Space," and host and co-Executive Producer of "Emily's Wonder Lab"
Nature Photography - hosted by wildlife photographer Joel Sartore
Each livestream will be available for on-demand viewing on both Instagram and Facebook following its initial airing.
Be sure to join along in the activities and get inspiration from @OutsideologistProject on Instagram and Facebook, and share your adventures using #GetOutside.
---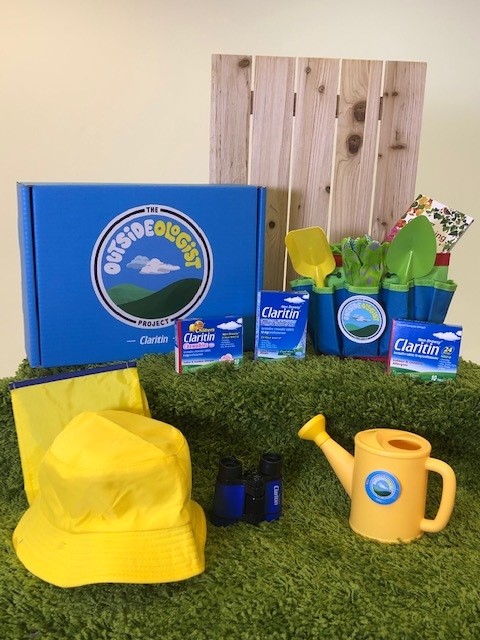 ---
Enter to win an Outsideologist Project Kit, from the makers of Claritin®. Each kit includes items to inspire your child's outdoor exploration as well as samples of Children's and Adult's Claritin® so Outsideologists of all ages can get the powerful, non-drowsy allergy relief they need to embrace the wonders of the outdoors. Use as directed. Click HERE to enter! NO PURCHASE NECESSARY TO ENTER OR WIN. Sweepstakes is open to legal residents of the United States who are at least 18 years of age at time of entry. Sweepstakes commences at 12:00AM ET on 7/16/21 and ends at 11:59PM ET on 8/16/21.
Subject to Official Rules at https://docs.google.com/document/d/1OKoHGMu9cg8htJrFilAV4UN8ydyvRki5mBEdRKfXLrs/edit.
For prize descriptions see Official Rules.

Disclosure: This article and giveaway is sponsored by Claritin®. I received a complimentary
Outsideologist Project kit and compensation from Claritin® for writing this article, but the images,
thoughts, and opinions are all my own. This giveaway is not affiliated with Facebook, Twitter, YouTube,
or Instagram