For me Halloween is all about the costumes, the decorations, the adventure, the boos and seeing everyone out and about on the same night having a good ole time. For my kids Halloween is all about one thing and only one thing only . . . the C - A - N - D - Y!! Going trick-or-treating dressed in costumes out in the neighborhood with family and friends is a fun and a great tradition, but at the end of the day for my kids, and probably yours too, it's all about the sweets!
I try really hard to limit my kids sweets "I said try," but when it comes to Halloween, I follow the advice of a certain Ice Queen and just . . . "Let it go . . .Let it go!" The older they get - and yes the older I get, I come to the decision to just let them go to town and indulge for a couple of days and get it all out of their system - then we're done, bye-bye candy. All that candy can be so overwhelming, right? In years past we have donated to candy drives, taken it to the dentist for cash with the Halloween Candy Buy-Back, sometimes Hubby takes it to work to share - if he doesn't eat it all, sometimes the grown-ups are worse than the kids, right? One year I even added a few candies each to the sack lunches we prepared for people going to the overnight-winter shelter at our synagogue.
If you do have leftover candy either because you bought too much, you didn't get many trick-or-treaters or your kids collected way too much, and you're wondering what can do with it, I have some great ideas that don't involve a trash can in the middle of the night!
Here's 10+ things you can do with all that extra Halloween candy
1. Donate
Here are some local options for you below. Additional options are to reach out to local food banks, first responders or organizations that work with the homeless, seniors and children.
If you hear of any that should be added to this list please let me know brennag@macaronikid.com.
---
For the Troops ~ Simi Valley: For The Troops is an all-volunteer run, local Simi Valley non-profit organization dedicated to providing members of the American military with "We Care" packages containing basic necessities, goodies, games and most of all, a show of support. They will accept your donations year-round.
---
Donation drop offs can be made on Mondays, Tuesdays, Thursdays and Saturday 9:00 am - 12:00 pm
2960 Cochran Street, Simi Valley | Phone: (805) 306-0830 | Website: www.ForTheTroops.org
If you want to donate other needed items along with your candy here is their "wish list."
Please know they are in need of and accept donations year round, including candy. In addition to candy and wish list items they also need card, letter and drawings from our community - especially from kids, more information and letter writing guidelines here.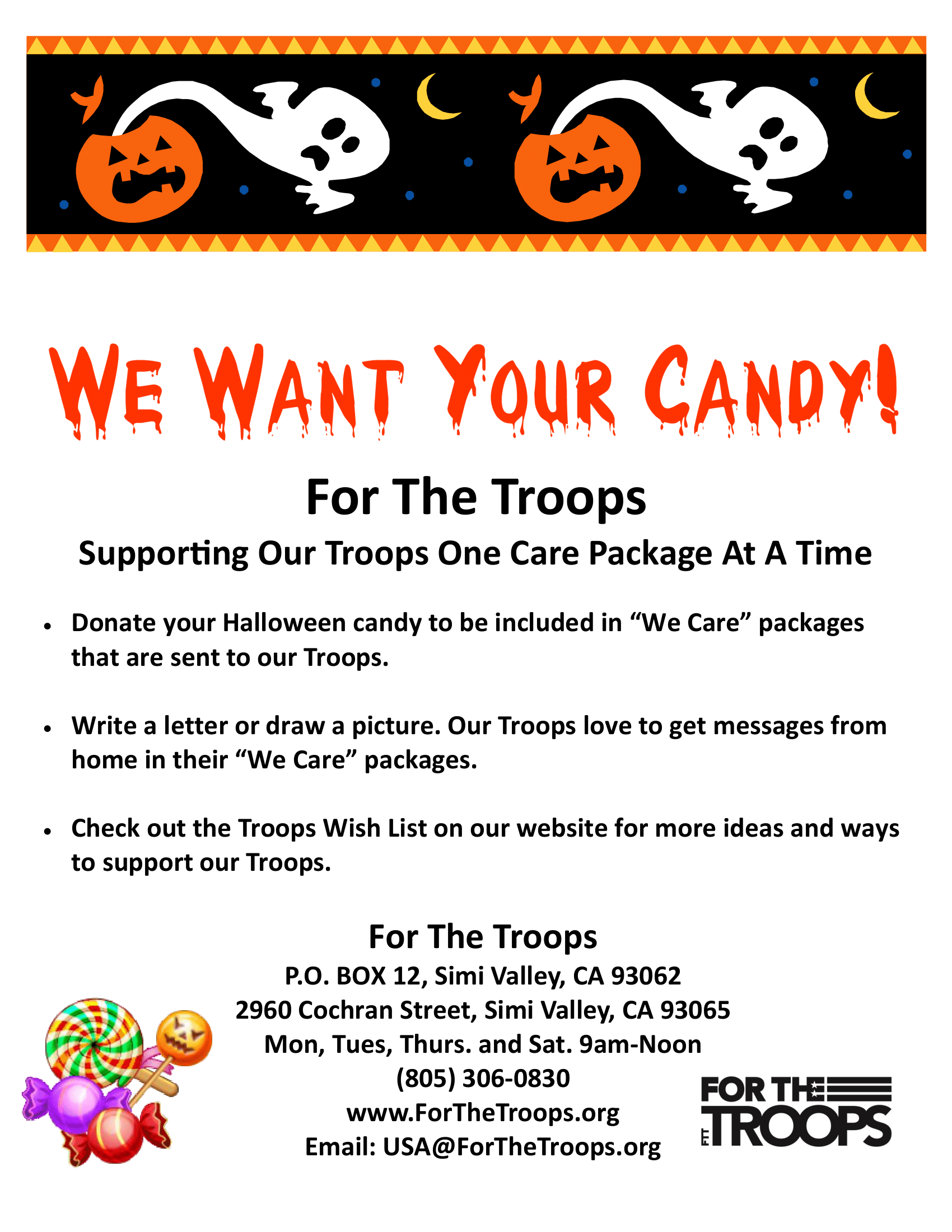 ---
Manna, Conejo Valley Food bank: 95 N. Oakview Drive, Thousand Oaks, Phone: (805) 497-4959
Donation Drop Off Hours: Monday - Friday: 8:00 am - 4:00 pm | and Saturday: 9:00 am - 1:00 pm
If you are going to drop of candy, consider bringing some other much needed items too. I remember doing a tour years ago and one thing they need is cooking oil in smaller bottle, this is something you can easily find at the local dollar type store, peanut butter is also a great option. See website for their much needed items.
2. Find a candy buy-back program near you
Some businesses, usually dentist offices offer Halloween candy buy-back programs just after Halloween. Your kids will love to make a little extra money or earn a new toy and you'll just be glad to have that candy out of the house hopefully saving them from cavities plus candy from the buy-back ends up going to a deserving organization so it's win-win. Call your favorite Children's Dentist to see if they have a buy-back program - many do.
| | | |
| --- | --- | --- |
| | SDI Productions form Getty Images Signatures and Nadezhda 1906 from Getty Imiages via Canva | |
---
3. Science - STEM
Use the candy to conduct scientific experiments or use individual pieces as building blocks to make cool structures that show off your engineering skills. Grab some toothpicks or wooden skewers - you can get them at your local dollar type store and combine with any soft candy, gummies, jellies and marshmallows work great, but you could also use firmer chewy candies like taffy and Starburst. There are lots of websites and videos with ideas, I've shared a few below.
| | | |
| --- | --- | --- |
| | manyakotic from Getty Images via Canva | |
4. Recycle it into even more yummy treats
Think about adding smaller or cut up candies to your next batch of crispy rice marshmallow treats, cereal bars, fudge, candy or popcorn balls.
Here's a few recipes I found for you to get started:
| | | |
| --- | --- | --- |
| | VeselovaElena from Getty Images via Canva | |
5. Start Baking
Instead of adding chocolate chips or nuts to your favorite cookies, brownies or bars add different kinds of chocolate candies, some might need to be cut or broken into smaller sizes. It'll be a surprise in every bite! Thumbprint cookies are another great option and not just with chocolate candies.
I've found some recipes for you to try, enlist your kids to help you in the kitchen and keep your favorites in mind for the upcoming holidays:
| | | |
| --- | --- | --- |
| | MykolaSenyuk from Getty Images via Canva | |
6. Get Decorative
You can also use pretty much any kind of candy as decorations. After frosting or icing your cookies, cupcakes or cakes get creative. Candies too big, no problem cut of smash them smaller pieces.
| | | |
| --- | --- | --- |
| | Jenifoto from Getty Images via Canva | |
7. Save some for the upcoming holidays
With so many holidays coming up like Día de los Muertos, Thanksgiving, Hanukkah, Christmas and then New Years (did I miss any?) you have a lot of options. Many of which are right around the corner so you don't even have to store them for long. Use the leftover Halloween candies to make new treats with a new holiday theme. Use them in your baking or to decorate treats, even just simple sugar cookies, also think about using some when your building your gingerbread house!
| | | |
| --- | --- | --- |
| | dbvirago from Getty Images via Canva | |
8. Think about Snack-Time
It's so easy to mix up some trail mix, snack mix or popcorn mix. Just grab your favorite leftover treats them mix in all kind of chocolate, candy corn, raisins, pretzels, cereal, pumpkin/sunflower seeds, your favorite nuts, dried fruit and you'll have an instant afternoon pick-me-up, lunch box treat or on-the-go snack.
| | | |
| --- | --- | --- |
| | snapphoto from Getty Images Signature via Canva | |
9. Add a little extra yum to your favorite frozen treat
Make your Ice Cream or frozen yogurt extra special by topping it off with some of your favorite candies, not just the small ones you can cut up larger chocolates and smash hard candies to sprinkle on top. Keep this in mind come December as this also works great with peppermint candies and candy canes too!
| | | |
| --- | --- | --- |
| | Getty Images via Canva | |
10. Think - Frozen
Freeze leftover chocolate candies, then add to your hot drinks like coffee or hot chocolate for a little extra surprise you and the kids will love! If you have any mint or peppermint chocolates, extra yum!
| | | |
| --- | --- | --- |
| | Olga Kriger via Canva | |
11. Make a fondue
Yup, dump all the chocolate - don't forget the caramels too! into a slow cooker. Add some cream, and let it get ooey-gooey. Keep it healthier when you use skewers of fresh fresh fruit, dip and you're set, you can dip cookies too for a super sweet treat.
Did I miss anything? Let me know brennag@macaronikid.com
If you love this article please share it with a friend or on social media, don't for get to follow and if you are not already Subscribe today!
---
Macaroni KID Conejo Valley - Malibu - Calabasas is your go-to resource for things to do to Find Your Family Fun!