Diwali is a multi-day Hindu festival celebrated with lights and fireworks. While people in different parts of the world celebrate Diwali in different ways, it is considered by all to be a time for prayer, family celebrations, and renewal.
Diwali, also known as Deepavali, is typically celebrated between mid-October and mid-November, depending on the lunar calendar. The exact date varies each year, as it is based on the Hindu lunar calendar. Diwali usually lasts for five days, with the third day being the main festival day. It is one of the most popular and widely celebrated festivals in India and other countries with significant Hindu populations.
Want to know more about Diwali and share this holiday with your kids?
We've put together a book list with 7+ books for young children about this very special holiday:
---

---
Archie Celebrates Diwali
by Mitali Banerjee Ruths, illustrated by Parwinder Singh
From the publisher: It's Archie's favorite holiday—Diwali. And this year she gets to share it with her friends and introduce them to the festival of lights! Archana loves her family's annual Diwali party, and this year she gets to share it with all her friends from school. She helps with the decorations and the food, and is eager for everyone to arrive. But once the party starts a thunderstorm kicks up and drenches the outside decorations and knocks out the power. Archie worries that everything will be ruined. How can there be a festival of lights without any electricity?
Intended for ages 3-7
---

---
From the publisher: You know about the 12 Days of Christmas. But do you know about the 5 days of Diwali, India's Festival of Lights?
Go on an adventure with Maya, Neel and their cute little partner, Chintu the squirrel, as they learn all about this famous Indian festival of lights including Dhanteras, Diwali sweets, Rangoli drawings, fireworks and the special sibling bond of Bhai Dooj.
Intended for ages 2-6
---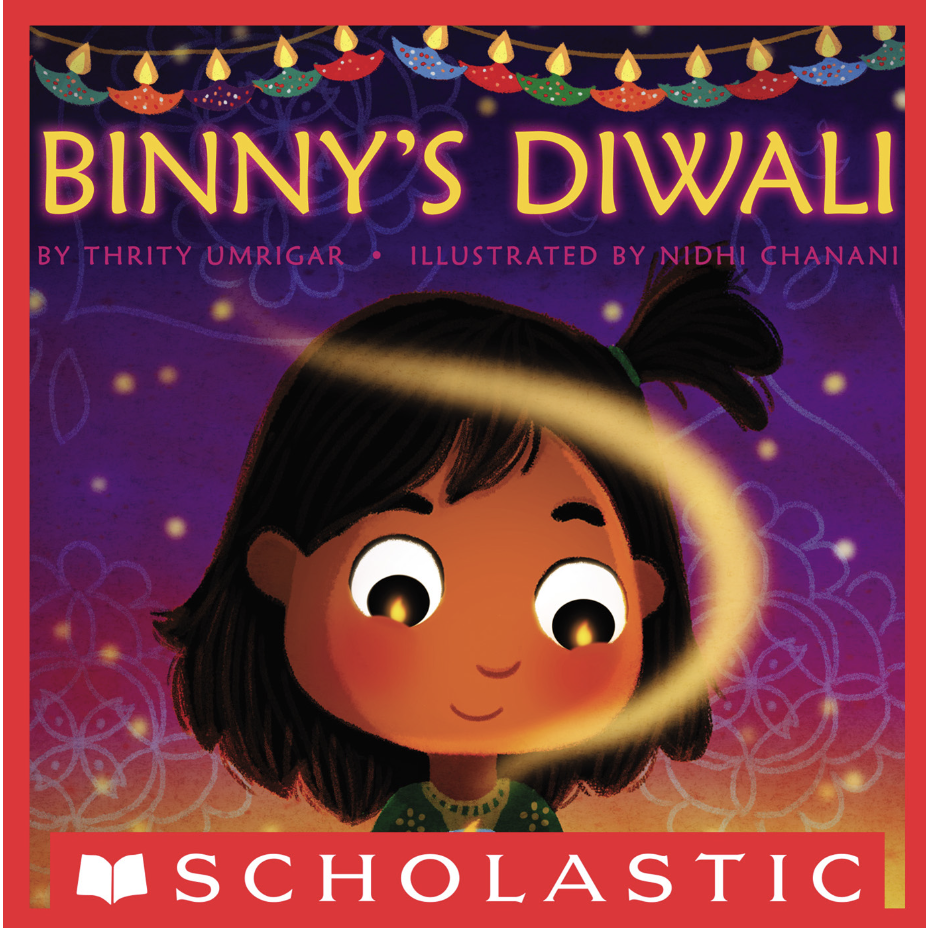 ---
Binny's Diwali
by Thrity Umrigar, illustrated by Nidhi Chanani
From the publisher: Binny is excited to talk to her class about her favorite holiday. But she struggles to find the words.Taking a deep breath, she tells her classmates about the fireworks that burst like stars in the night sky, leaving streaks of gold and red and green. She shares with them delicious pedas and jalebis. And she shows them clay lamps, called diyas, which look so pretty all the children ooh and aah.
Intended for ages 4-8
---

---
My Little Book of Lakshmi
By Ashwitha Jayakumar, illustrated by Rachna Raghuram
From the publisher: Lovely Lakshmi comes to Earth once a year. Will she have a good time here? With charming illustrations and simple language, this short tale about Lakshmi will entertain and delight. The book is dotted with interesting facts about each god as well as an interactive seek-and-find activity. The perfect way to familiarize babies and toddlers with India's rich cultural fabric.
Intended for ages 0-5
---

---
From the publisher: Celebrate Diwali, the Indian festival of lights by reading this wonderful children's picture book to your kids. Join the two brothers Klaka and Kiki as they light diyas and firecrackers, buy new clothes, and get Amma to answer their countless questions — Why do we celebrate Diwali? Why do we pray to Ganesha and Lakshmi on Diwali? And hear the story of Rama and his homecoming. A perfect book to introduce the stories behind Diwali to your children.
Intended for ages 2-8
---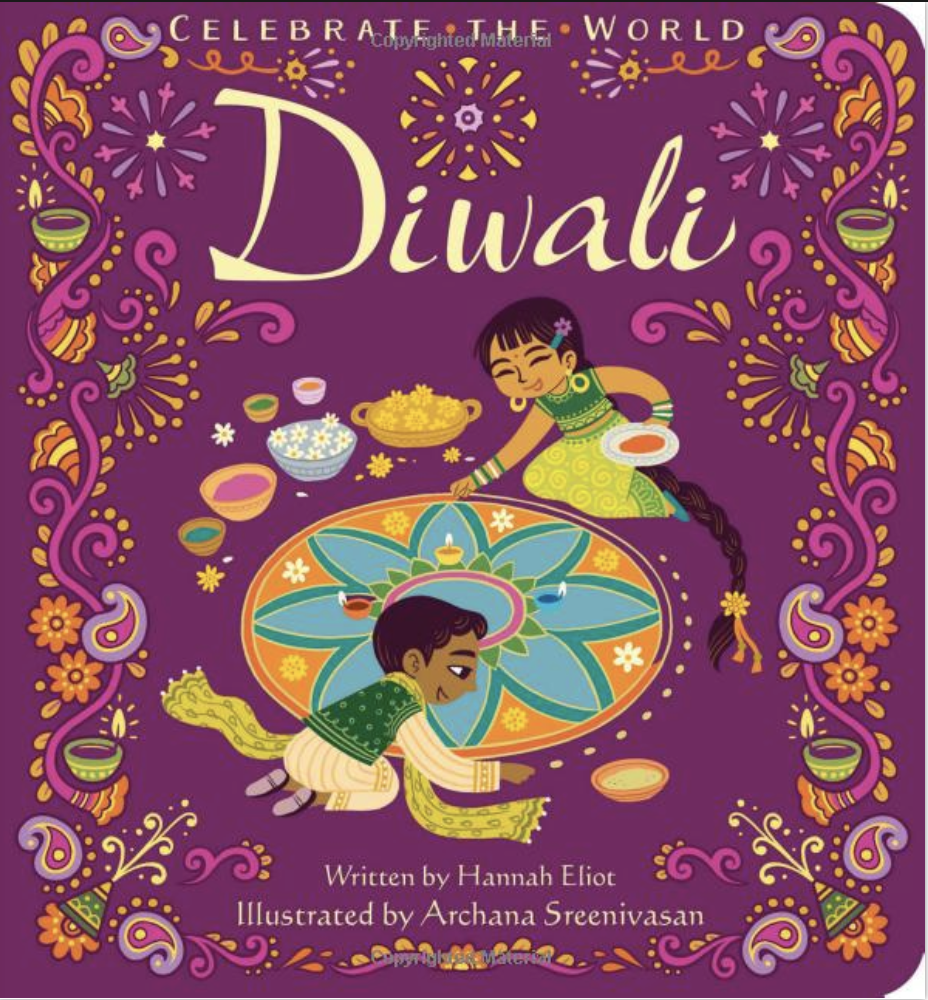 ---
From the publisher: Each autumn we gather with our friends and family and light our brightest lanterns. It's time for Diwali, the festival of lights! In this lovely board book with illustrations from Archana Sreenivasan, readers learn that the five days of Diwali are a time to pray for a bountiful season, celebrate the special bonds between siblings, and rejoice in the victory of light over darkness and good over evil.
Intended for ages 0-5
---

---
Lots of Lights
By Kavita G. Sahai, illustrated by Vladividal
From the publisher: A fun Diwali story that explains each day of celebration. Helping children understand Indian culture allows them to be better global citizens, and for Indian children in America, it allows them to learn about their culture in a fresh and relevant way.
Intended for ages 2-5
---
---
Learn more about Diwali:
Diwali Events
Don't forget to visit the Macaroni KID Conejo Valley - Malibu - Calabasas calendar for local Diwali events and activities in Agoura Hills, Oak Park, Malibu, Calabasas, Westlake Village, Thousand Oaks, Newbury Park and nearby in Ventura and Los Angeles Counties.
#Diwali #ConejoValley #ThousandOaks #Malibu #Calabasas #AgouraHills #OakPark #WestlakeVillage #NewburyPark #VenturaCounty #LosAngeles #LosAngelesCounty #FindYourFamilyFun #MacKid #FamilyFun #FamilyFriendly #KidFriendly #ThingsToDo